Monday, March 7, 2011
Fact: The "P" in parent stands for panic.
OK. Not a proven fact, but it feels like it's right, doesn't it? From the minute these little puffalumps enter our lives, there's a new thing a minute to worry about, consider, think through.
The sleep thing.
The sleep on the back thing.
The latch thing.
The acid reflux thing.
The croup thing.
The projectile vomit thing.
The teething (always teething!) ear infection thing.
The the child-proofing thing.
The stroller, the crib, the car seat thing.
The recalls on all of the things.
Maybe you decided from the gate that you were not going to be one of those parents. The worrying, high-strung, Henny Penny types. The sky was not falling in your world. And so you'd be the calm, cool, "no prob" parent.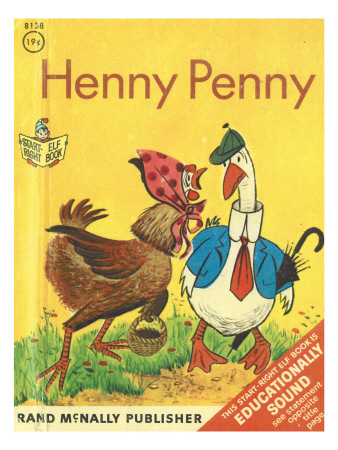 Yeah, so how's that working out for ya?
We're pretty leveled-headed around here (thanks in large part to the aplomb of my husband). We're not quick to freak out over things that are outside  of our control. And—as you may have already figured out— being a parent is almost entirely about dealing with that which is beyond your control. It's practically built on it. All you can do is hold fast to your wits, your common sense and your gut feeling that you are indeed doing the right thing.
All that said … the SKY IS FALLING!
One word: preschool.
Since we don't know exactly where we will be living yet, we can't make any decisions about where QB will go to pre-school. I wasn't really thinking about it until I overheard one mother at the grocery story talking about a school waiting list her kid had been on "forever."
Granted, I don't know if that woman was talking about her teenager or her toddler. But my mind went straight to the "facts"… she was clearly put in line before me as a friendly reminder that it was time to panic about preschool.
Why else would she basically be talking to me? Right there in the grocery store check-out line. On a Friday morning. Don't you see the signs, people? Ack! Panic!
Jokes aside, today I woke up thinking about all of it. More so about the move—which is roughly 100 days away, give or take a couple. Hell, let's just call that next week. The thing is, we haven't really scouted any towns yet. Not actively, anyway. So getting frantic right about now would make sense, I'd say.
But then, right there in the shower, I reminded myself that, no, the sky is fine. Blue and clear. And, no matter how many acorns tumble on my head, we would also be fine.