Wednesday, May 11, 2011
I've known Sharon Pendana for more than 15 years. She still looks at me with a twinkly "you were just a baby" look in her eye. And I still look at her, marveling at her intrinsic sense of style and undeniable grace. For Sharon, it's not just about the hot, new looks coming down the runway. She's a student of fashion—the history and science of it—and continues to weave her aesthetic into even the smallest detail.
Smart, talented and always kind, Sharon joins The Confab to share some of her fashion sense.
[Ed. note: Read on … there's a lovely surprise at the end of the post. Hint: Giveaway!]
A truly stylish woman takes the elements she has to create a heady brew all her own. ~Stylist Sharon Pendana
Q: We're a busy people, we women. And moms are usually juggling nine things at once. Personal style and fashion tend to get moved to the back burner. Many new moms stick to fleece, sweats and yoga pants. What are some baby steps new moms can take to reclaim—or even find—their style?
Sharon Pendana: New moms want comfort for sure, but with new found loss of personal time, their fashion also needs to be easy.  Fortunately that doesn't have to mean frumpy.  Save the workout gear for actually working out. For trips to the pediatrician, the market or just out to get some fresh air, squeeze in a bit of the attention you paid to the pre-baby you:
A tailored anorak over a tissue tee, chinos and ballet flats (add arch-supporting insoles for comfort) is hands down, a more polished, yet easy look for Spring than your old trusty tracksuit.  Push up the sleeves and pop on a bold cuff. Instant chic! (Clockwise below: Navy jacket, Simply Vera Vera Wang; butter chinos, J.Crew; melon flats, Cole Haan; striped tee, Madewell.)
Invest in a simple, modern, wear-with-everything diaper bag.  You'll be carrying it, not the baby, so forgo cutesy animals and predictable pale pink or blue. (Below: Skip Hop "Studio" diaper tote.)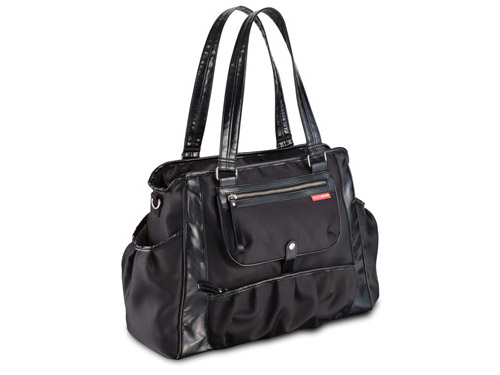 Q: Over the many years of working everything from high fashion to round-the-way girl chic, what have you found to be the staples of a woman's wardrobe? Obviously you can't see into all of our closets, but what items should be on everyone's general style checklist?
SP: My Lucky Seven for every woman's wardrobe:
A properly fitted bra. It is considered a "foundation" garment, as in the foundation for your look. Everything looks better, and you stand taller when your bra fits just-so. Pregnancy and nursing can create major fluctuations in bra size and it's best to be fitted by a bra specialist.  Oprah-approved chain, Intimacy has "bra fit stylists" in more than a dozen US cities.  Most major department stores offer this service as well.
White shirt. Crisp and long-sleeved it can be worn year-round, dressed up or down.
(Below: Jones New York No-Iron Easy Care Classic White Fitted Shirt)
Wrap dress: Diane Von Furstenburg hit the nail on the head. Flattering to most women's bodies, it looks great, is easy-to-wear and it allows quick nursing access. If your mid-section is more ample than your bustline, I recommend an a-line dress which drapes softly at the neck and shoulder, floating over the body to the knee.
Peak-lapel pantsuit. The peaks have an elongating effect. Keep the lines simple, no time-dating details, and it can be worn forever as a suit or as separates. Black, navy or grey will be most versatile.
Dark wash jeans. The fabric de Nimes, may have its roots in France, but has found its way into the wardrobes of women around the world, and is certainly ingrained in American culture. Deep indigo belies the humble origins and gives jeans a polish not found in lighter washes.  Proper fit is key, too tight and they appear vulgar, too loose and they appear dowdy.  Let's take back the meaning of mom jeans, ladies.
A figure-flattering black skirt. For some that would be a pencil skirt which skims the body, for others, an a-line which floats out, creating balance for a generous hip. Keep the hemline mid-knee or just below, a length which flatters most.
A piece of jewelry you love.  Whether it was bought with your first bonus, a gift from your sweetie, made by your child or snagged on a fabulous vacation, one piece that truly has personal resonance will be a joy to wear.
Q: Whether you're a new mother or one who's been at it a few years, having kids means money. Spending it, to be clear. What do you recommend for the mom who's trying to find her fashion "self" without losing her wallet in the process?
SP: Fashion is becoming increasingly democratized and therefore accessible.  A woman in a small midwest town has the same opportunity to view the collections of Fashion Week as the editor of her favorite fashion magazine simply by clicking onto Style.com.  Et Voila! Front row images. After getting a sense of the emerging trends for the season, she can find similar looks for less by shopping the many designer collaborations with mass market retailers.
If the woman-friendly pieces of OMO Norma Kamali, for example are cost-prohibitive, Norma Kamali for Walmart offers the NK sensibility at a fraction of the cost, usually around $20 per piece.  Target has for years now provided a constantly updated roster of affordable designer fashion from such stalwarts as Issac Mizrahi and emerging design stars like Thakoon and Rodarte through their GO International collection.  Kohl's Simply Vera Vera Wang has chic updates on classic items with easy elegance and figure-flattering elements like long cardigans and slim (not skinny) jeans.

Q: Function over fashion has been the motto of many smart women. But this doesn't have to mean sporting sneakers and cargo pants everywhere, right? What are some easy way to add some funky to function?
SP: Full-on GI Jane is not the route to take, however, there has been a resurgence of late of stylish, feminized cargo pants.  If you like cargos, rock them, but it's all about balance and proportion. Every pocket need not be used—that's what your handbag/diaper tote is for.
With a bit of heel (perhaps wedges for stability) the look becomes less soldier, more sexy new mom.  Look for details that will add some element of function (like the generous pockets on the previously mentioned anorak) without weighing you down.
And for the sneaker freak, you don't need performance shoes for everyday, if you stick to classic styles with your casual clothing, you can't go wrong.  Try the "Helen," a fresh take on the time-honored Jack Purcell from Converse.
Q: Style isn't just about clothing, right? Isn't it a much larger experience? What are some other ways to spruce up your style that don't necessarily involve adding clothes to your closet?
SP: A truly stylish woman takes the elements she has to create a heady brew all her own.
Have you recently cut off your Rapunzel locks? Those earrings that have been obscured by your hair suddenly look bold and fresh.
A chicly neutral sheath dress gets an injection of wow with a pop of vivid color in a scarf, a strand of beads collected in your travels or a bright waist cincher.
Replace the frayed band on Dad's large wristwatch with grosgrain for the perfect masculine/feminine melange.
Refit Grandma's fab handmade Italian eyeglasses with dark lenses for instant vintage glamour.
Revamp your beauty regimen with a visit to your favorite cosmetic counter and try a new look—going softer if you always have a full "face" or ramp it up if you go au naturel.
———
For more on Sharon and her fashionable eye, read her blog pendulum.
———–
Giveaway Alert! That's right. We've got more goodies for you here in The Confab. One lucky MMM reader will win The Style Checklist: The Ultimate Wardrobe Essentials For You by our longtime friend and America's favorite "Style Guy" Lloyd Boston. Sharon served as Lloyd's trusty style editor for the book, so you can see her handy, dandy work, too.
All you have to do is leave a comment here or on MMM's Facebook Page about your ultimate style essential. Maybe it's the funky purple pen, your signature sunglasses or a perfect-fit, white Tee—tell us what says style to you, and you could walk off with Lloyd's fine, fine book. Free!